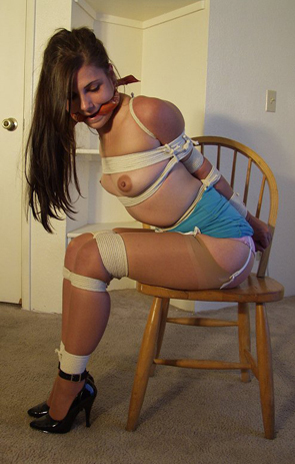 WHAT IS BONDAGE
What is Bondage?
Bondage is the physical act of restraining a person with ropes, straps, any other device or psychological restraint via voice commands to give sexual pleasure. Bondage is normally used in conjunction with dominance to includes a set of rules that are followed for the experience. If the rules set for the interaction are broken, a form of agreed upon punishment is administered. The punishment may or may not have a painful consequence. The action uses the exchange of power or control and physical restraint to establish pleasure.
This act is commonly used in combination with other BDSM practices. BDSM is the practice of disciplinary acts used by an individual in conjunction with extreme bondage. The disciplinary acts may include using handcuffs, blindfolds, straps, etc. In some instances, a person may completely tie and suspended another person in the air for a period of time. Sometimes other disciplinary acts are used like hard and or light spanking, choking to the point of asphyxiation or verbal yelling. Bondage may be used as a form of art with creative display or as a form self-expression with a personal preference of safety measures and other tools.
What is Rope Bondage?
Rope bondage, also referred to as Fesselspiele, role play, shibari, kinbaku is the act of restraining a person with rope in various BDSM activities. These activities can be in the form of a wrap, full or partial suspension or just mildly or tight restriction.
What is Kinbaku Bondage?
Kinbaku by meaning is "tight binding" this form of Japanese Bondage consist of tying a person in very tight rope bondage with intricate designs usually using multiple pieces of rope and simple types of tying techniques. This type of bondage is also referred to as Kimbaku-bi "the beauty of tight binding". The rope used in this practice is around 6mm in diameter and made of materials such as hemp, jute and linen. The natural fiber rope used in Japan is around 4mm in diameter and is call asanawa.
What is Shibari?
Shibari, is also referred to as "the ancient art of Japanese Rope Bondage. This type of Rope Bondage has been said to be mentally stimulating and relaxing for the trussed (the person being tied up) as well as the rigger (the person doing the tying). When this technique is properly applied it has a very beautiful outcome. Despite the simplistic beauty of Shibari, if it is not done correctly it can be very dangerous to the well being of the bunny or model. It is very important to learn the correct skills to administer any type of tight bondage. Millions of people get Shibari for different reasons. It is one of the only bondage techniques used where a woman can still look feminine while bound. Several individuals that have been bound in this form of bondage have said that being the complete focus of someone's attention can be demanding, intoxicating, intimidating and seductive. Many have a combination of several of these emotional reactions.
FOR MORE INFORMATION E-MAIL DAVE AT ROPEBONDAGETUCSON@GMAIL.COM (SUBJECT: "INTERESTED MODEL").