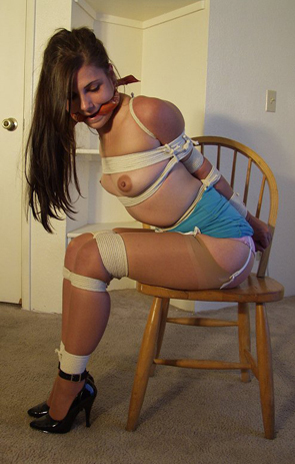 Hello ladies, glad you're interested in modeling for us. Here's some info regarding Dave's photo / video shoots.

FIRST OF ALL, DAVE IS LOCATED IN SUNNY TUCSON, ARIZONA.

NO MODELING OR ACTING EXPERIENCE IS NECESSARY!


This is NOT an "S&M" Website!!! (There is a BIG difference between S&M and PURE Bondage. THIS is a bondage only site for those who think women are at their sexiest when they are tied, gagged and totally helpless. NO "rough stuff", NO abuse.)

A typical modeling session involves both still photography and video. Models are paid $100.00 per hour for topless and $125.00 per hour if bottomless or nude is added. (Topless is mandatory, bottomless or nude is optional.) Typical photo/video sessions last a minimum of four hours. For out of town girls, sorry, we do not pay travel or motel/hotel accommodation costs. Models are paid the same day after signing their release forms, and their real names are not used on the site.

No sex toys or S&M devices are used in the shoots... unless you suggest 'em.

There is no real or simulated sex.

All shoots feature tight crotchropes and gags (Dave doesn't "pants" or "double-side" the tape, the sadist).

Models are allowed to bring escorts/chaparones, as long as they're supportive (no negative attitudes or assholes allowed), but they're not required, as there are usually two photographers at the sessions.

TATTOOS: If we want to make money, we need to shoot what most bondage fans want to see... And what they want to see are models with MINIMAL ink. Since it often depends on the LOCATIONS of the tats, don't be afraid to apply if you have a few. As for your overall look, we need to see clear, detailed photos before we can make an offer of work: headshots without makeup, topless close-ups, plus standing full-body front, back and side shots. If you don't have an online profile featuring such photos, e-mail pics to Dave Annis, Producer, at: ropebondagemodels@yahoo.com (subject: "Interested Model"). If unsure how to send photos, just ask for instructions.

Dave needs to know your boundaries so that he can accommodate them and make your modeling experiences pleasant.
If you have bondage experience, it would be helpful for him to know in advance your physical limitations and abilities.

Sorry, we cannot supply in-town transportation.
(TO MAKE YOUR TUCSON TRIP WORTH YOUR TIME, YOU MIGHT ALSO MAXIMIZE YOUR VISIT BY BOOKING A SHOOT WITH "TOLSTOY TONY" @ WWW.TUCSONTIED.COM).
FOR MORE INFORMATION E-MAIL DAVE AT ROPEBONDAGEMODELS@YAHOO.COM (SUBJECT: "INTERESTED MODEL").